The iPhone is an amazing tool for self-improvement. Whether you are looking to lose weight, improve your sleep habits, or find a new job; the iPhone has something for everyone. But how do you know which apps are right for you? This blog post will help answer that question by highlighting some of the most popular self-improvement apps on the market today and explaining why they're so important to use. To make things easier we'll also include links at the end of each app description so that it's easy for readers to download them in one spot!
– Couch to 5k
The first app we'll highlight is Couch to Five K. This app is designed to help people who are new to running get started on the right foot. It includes a nine-week training program, detailed instructions for every run, and tips from experienced runners. If you're looking for an easy way to start getting in shape, this is the perfect app for you! With this app, you'll be able to run a five kilometer race in no time!
– Headspace
If improving your sleep habits is one of your goals, then the Headspace app is perfect for you. This app provides guided meditation sessions that will help you relax and fall asleep faster. In just ten minutes per day, you can start seeing results! And if you're feeling stressed out, this app can also help with that by teaching you how to breathe and focus on the present moment. Starting a meditation habit is one of the best ways to improve your self. This app makes it easy by providing access to hundreds of different guided meditations that guide you from wherever you are in any moment, all for less than $12 a month! Whether you're looking to deal with stress or anxiety, sleep better at night, get more productive during the day, or just feel happier overall; this app will help make sure that happens!
– DietBet
One of the biggest challenges people face when trying to lose weight is staying motivated. But with DietBet, that's not a problem! DietBet is an online community where people bet on their own weight loss progress. If you win the bet, you get money. If you lose, your friends do! This keeps people motivated because they not only want to stay on track for their own sake; they also need to keep up with their team members and don't want them winning while they're losing. It's a great way to make sure that everyone stays accountable and has fun doing it! As you can see, DietBet is a great way to make sure that you stay on track while losing weight.
– Indeed Job Search
If finding a new job is one of your goals, then the Indeed Job Search app is perfect for you! This app allows you to search through millions of jobs from all over the world. You can customize your search by location, type of job, and company size. And if you're not sure what career path you want to take, this app also offers career advice and resources to help you figure it out. With Indeed Job Search, finding a new job has never been easier! This app allows users to access millions of jobs from thousands of different companies all at once right from their phone or tablet computer ! With this app, finding a new job will be easier than ever before so if career advancement is one of your goals then download this today . You can even use this app to search for jobs when you're on the go!
– HabitBull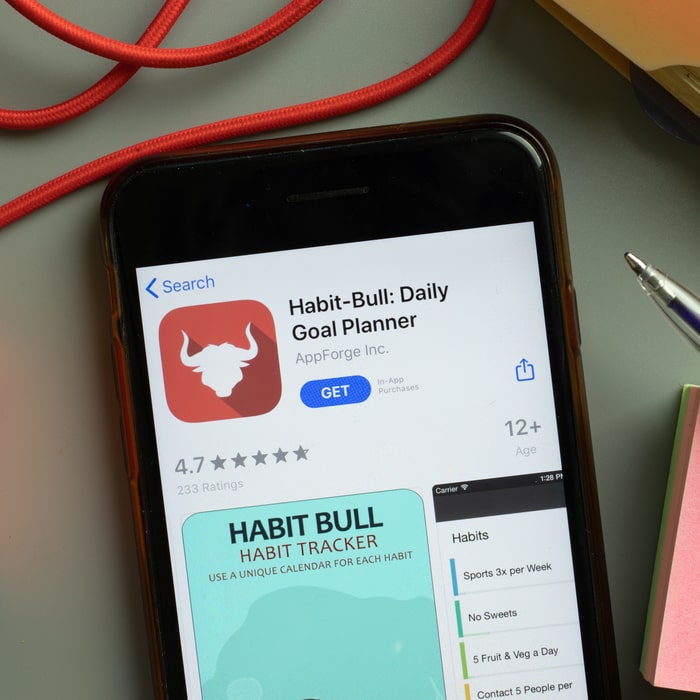 If building good habits is one of your goals, then the HabitBull app is perfect for you! This app allows users to create daily or weekly tasks that will help them stay accountable. You can also track how many times in a row you've completed certain tasks and even share this progress with friends who are trying to do the same thing. As it turns out; accountability really does matter when it comes to self-improvement so if finding someone else who's working toward similar goals sounds like something you'd be interested in doing; give this free app a download immediately ! By using all these apps together ,you'll have easier time reaching your personal development goals.
– mSpy
This app will help you keep an eye on your kids, employees or cheating spouses.
Why is mSpy for iPhone important to you ?
mSpy is important for you because it helps you to ensure a calm and happy life. If you think that your child is using drugs, you should use the mSpy app to monitor their phone. You can also track location of your employees if they are not doing what they are supposed to do at work or go home on time.
mSpy allows you to monitor social media activity and email correspondence of your employees via smartphone cameras. Track all text messages sent by an employee even those that have been deleted from a target device. The mSpy iPhone spy software will help you find out whether the person has got involved with any undesirable elements or not because it monitors GPS locations as well as Internet history activities such as websites visited, images viewed etc.. If there is suspicious activity going on by someone in your family then this program can be used for surveillance.
The mSpy app is a very powerful tool and should be used with caution. It can help to keep you and your loved ones safe, but make sure that you inform the people you are spying on that they are being monitored. This will ensure that everyone is happy and lives a calm life without any secrets or worries. The mSpy iPhone spy software is a great way to improve communication in your family and keep everyone safe!
Characteristics of mSpy:
Location Tracking: mSpy is the best app to track iPhone location because you need to be able to keep track of your loved ones or employees. You can locate anyone with this iPhone spy app.
Browser Tracking: mSpy records all the websites visited on a target phone and keeps them in one place so you can monitor what they have been looking at online. This will help to keep your children safe from viewing any harmful or inappropriate sites while using their smartphone! You'll never need to worry about where your employees are going online again after installing this application .
Social Media Spying: Monitor social media activity of an employee by monitoring their Facebook, Instagram, Twitter, Snapchat etc.. accounts via mSpy's easy-to-use interface that anyone can use! This is perfect for parents who want to make sure that their kids aren't engaging in risky behavior such as drug use , drinking alcohol. This gives you a clear idea of what people are talking about and sharing behind your back.
Call History: mSpy has the ability to record incoming and outgoing call history from a target phone. You can also see who they have been talking to by viewing the contact list on the app!
Text Messages: The mSpy spy software for iPhone is an all in one solution for monitoring text messages because you'll be able to view every single message that your kids or employees send and receive, including deleted ones . This will help keep everyone safe while giving parents peace of mind about what their children are up to throughout the day.
Conclusion
You should use all apps for development and peace of mind. By using all these apps together, you'll have an easier time reaching your personal development goals. Make sure to download the mSpy app immediately! Also, be sure to check out the website for more information on this powerful iPhone spy software.
You can also use DietBet as a way to improve your health and lose weight. DietBet is an app that helps you to bet on how much weight you will lose over a certain amount of time. If you achieve your goal, then you will win money! This is a great way to stay motivated and make sure that you are losing weight because you have something to gain if you are successful.
The HabitBull app is another great option for self-improvement because it helps you to create new habits and break bad ones. This app is perfect for people who want to change their lifestyle but don't know where to start . The Indeed Job Search app is great for people who are looking for a new job. You can use this app to find jobs in your area that match your skills and qualifications. This is a great way to get started on your career goals!
The Headspace app is perfect for people who want to improve their mental health. This app helps you to meditate for ten minutes per day in order to reduce stress and anxiety. Meditation can be extremely beneficial for your mental health, so be sure to try out the Headspace app today!
Finally, the Couch to 5K app is perfect for people who want to start running but don't know where to start. This app will help you to gradually increase your running distance until you are able to run five kilometers without stopping ! Be sure to try out all of these apps today for a better and healthier you!